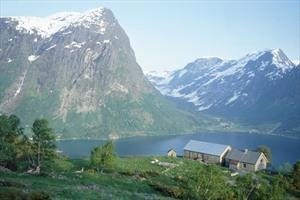 Hiking tour to the mountain farm Sigdestad in Oppstryn.

The Sigdestad Farm lies 314 m above sea level on the northern side of Strynevatnet. Previously the name of the farm was Sigvaldstadir ( the place of Sigvald, the farmer).

The path from Glomnes to Sigdestad is step, and before 1723 they had to use a stepladder to reach the farm. All goods which had to be transported to and from the farm, had to be carried on one`s back, up and down the steep path.

Several archaeological sites going back to Bronse Age ( 1500 -500 BC) have been found in Glomsdalen.

After the Black Death in 1349-50, all farms in the area were abandoned, only Sigdestad was reestablished as a farm. However, there was much discussion about the ownership of the farm which was considered to be one of the most wealthy farms in Oppstryn because of its good pastures in Glomsdalen.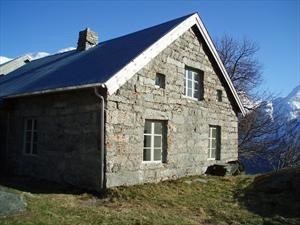 One of the wealthy farmers on Sigdestad, Rasmus Skår, became a farmer in 1782. He had 12 milking cows, 8 young cows, one female horse, 30 goats and 20 sheep. Two male and two female servants assisted him all year round. During the summer the cattle were on the summer farm, and the female servants prepared cheese and butter.

The farm had four barns outside the home field. In the autumn they put the hay and leaves into these barns. The hay and leaves were transported home by horse sledges on the winter snow.

During the winter the people made most of their clothes and equipment used to run the farm.

The last farmer, Jon Sigdestad, died at home in 1961, 69 years old.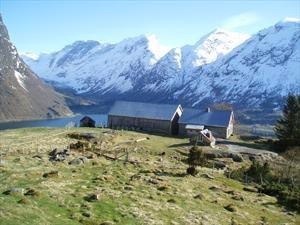 Source (text and photo): www.nordfjord.no / Reisemål Stryn & Nordfjord